Glass, an endlessly recyclable material, should be embraced for its sustainability potential and beauty. Our home decor objects are authentically handcrafted in Esperance, Western Australia and endeavour to showcase the diversity, beauty and unique qualities of glass as a sustainable, functional and expressive artistic medium. 
Modern home decor that embodies the unique West Australian environment,
while offering functional purpose and practicality.
Our diverse range of exquisite tableware products are suitable for all levels of entertainment.
The design process and artistic direction enables everyday products to become greater than the sum of their parts.
The beautiful and conceptual, yet highly functional tableware products ensure quality and longevity with each unique design.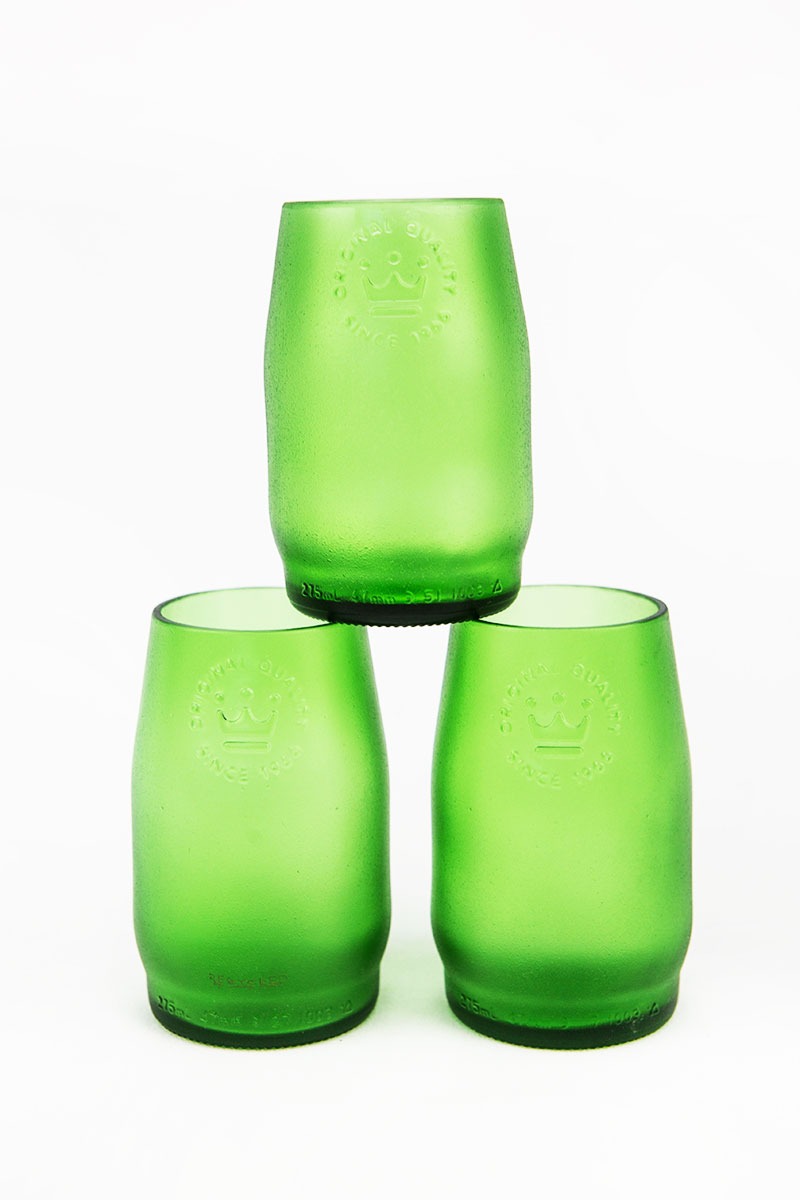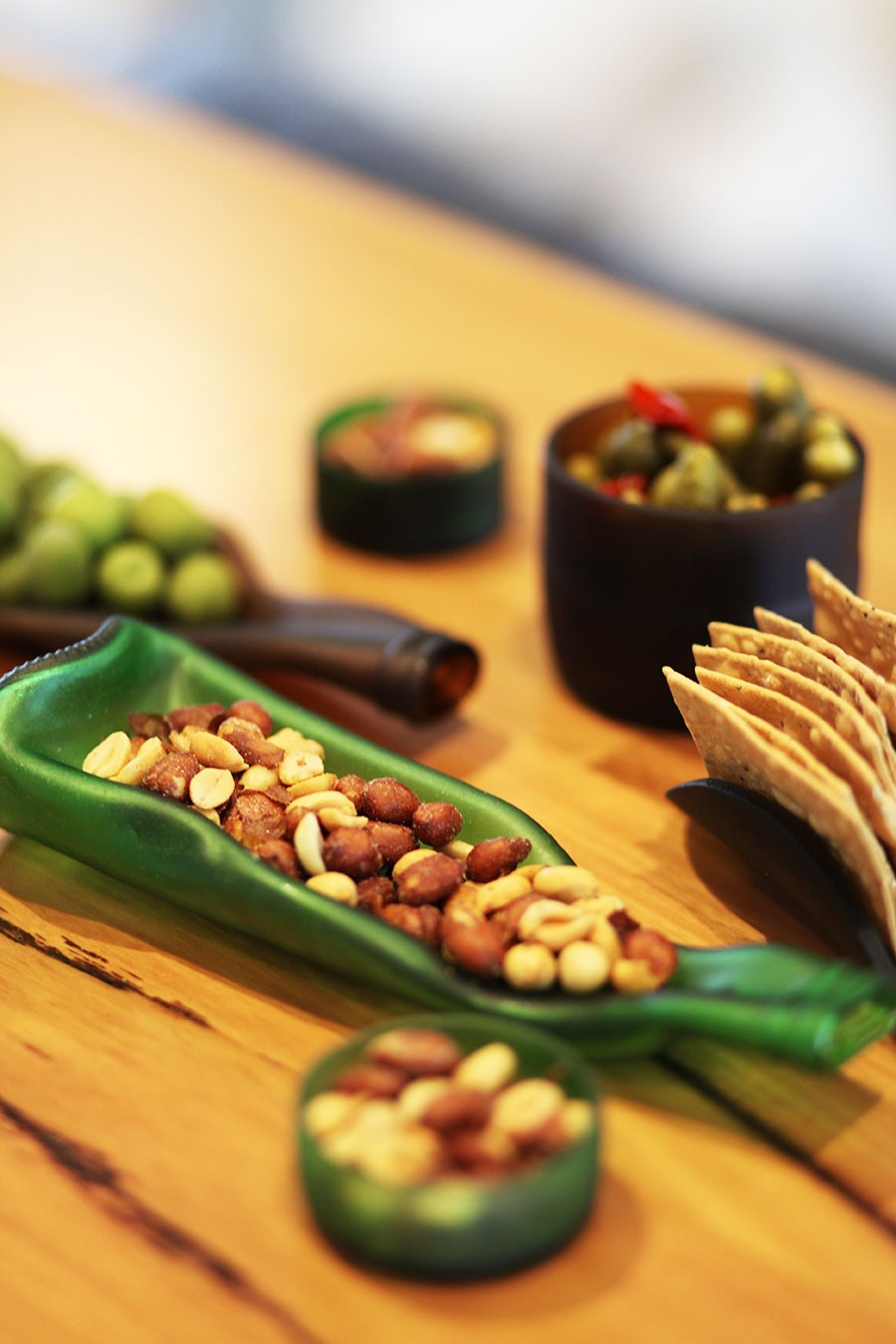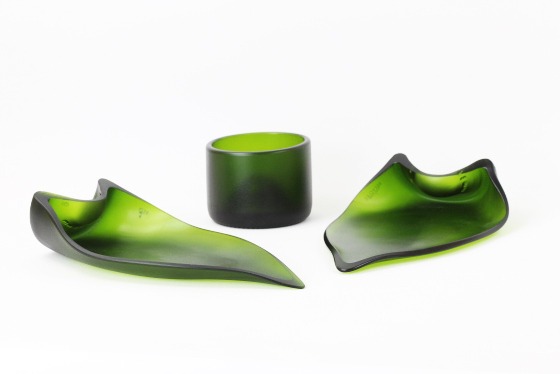 Each bottles' physical shape, quality, colour and material composition influences it's final form as we consider it's stand alone design potential. 
Altered in subtle ways, our Bathroom objects can still be recognised as bottles, but take on a new functional existence and can be easily integrated into everyday use as a valid purposeful object. 
There is no need to trade off quality or aesthetic design to make a sustainable choice when decorating, buying girs or considering interior design elements within your bathroom, laundry or kitchen.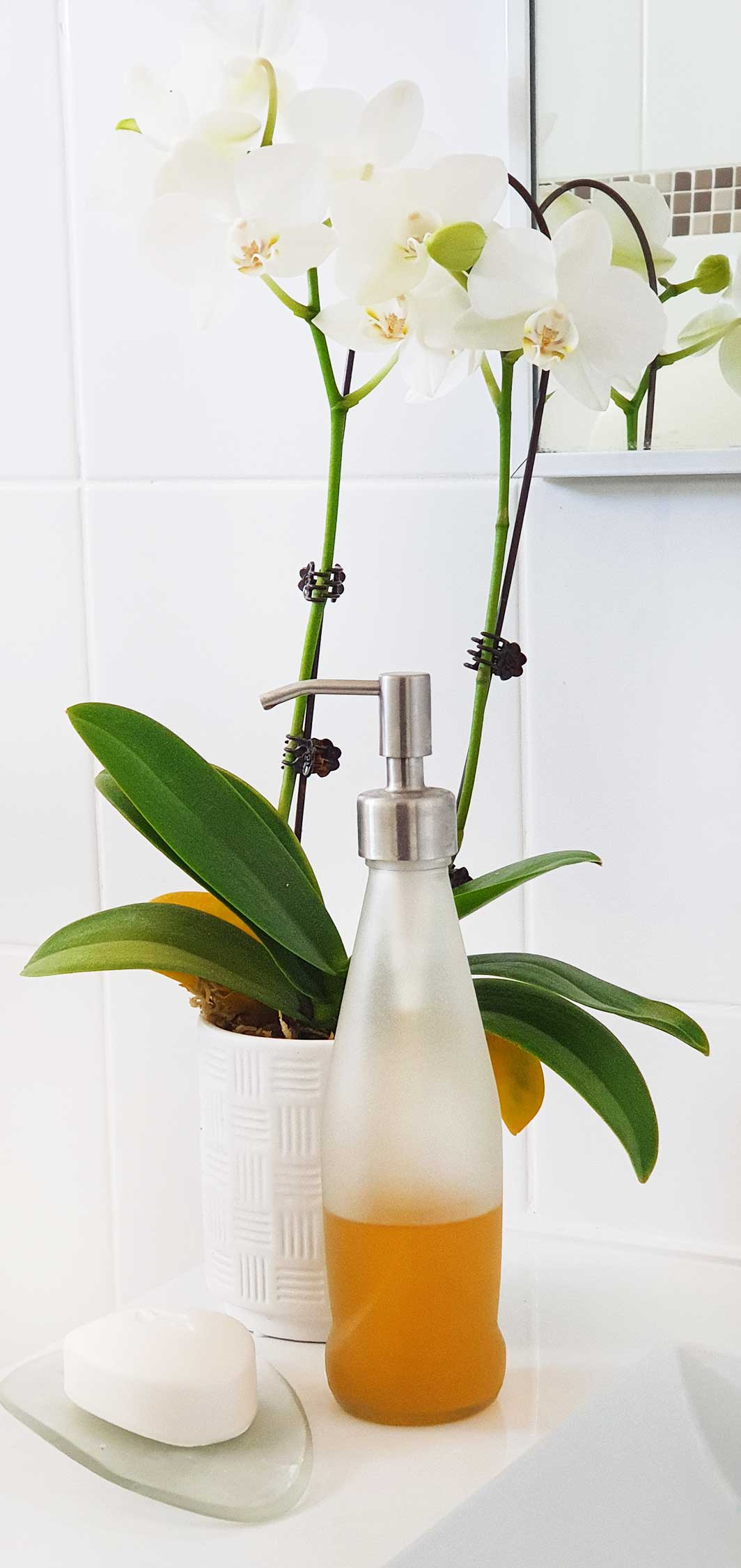 Scatter style throughout your home …
 Each sculptural design has its own personal form and artistic merit, aiming to celebrate the diverse beauty of our Australian landscape.
Showcase one of our exquisite handcrafted sculptures in any room of your home for a classic and timeless testimony to the beauty of the West Australian coastline and natural assets of our remote region.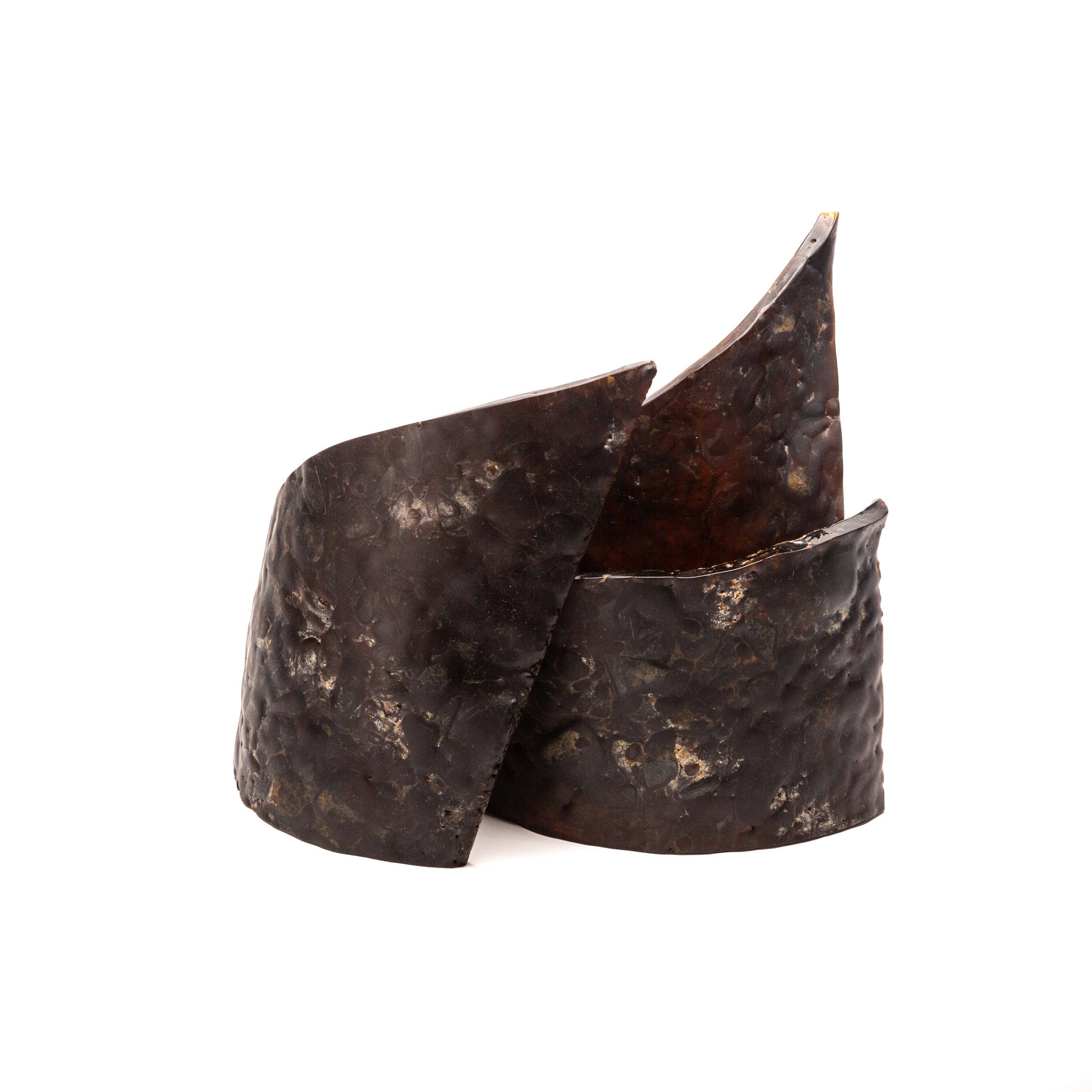 Sculpture Curved
Multiple firings, shaped using various methods, cut and polished.
Price varies.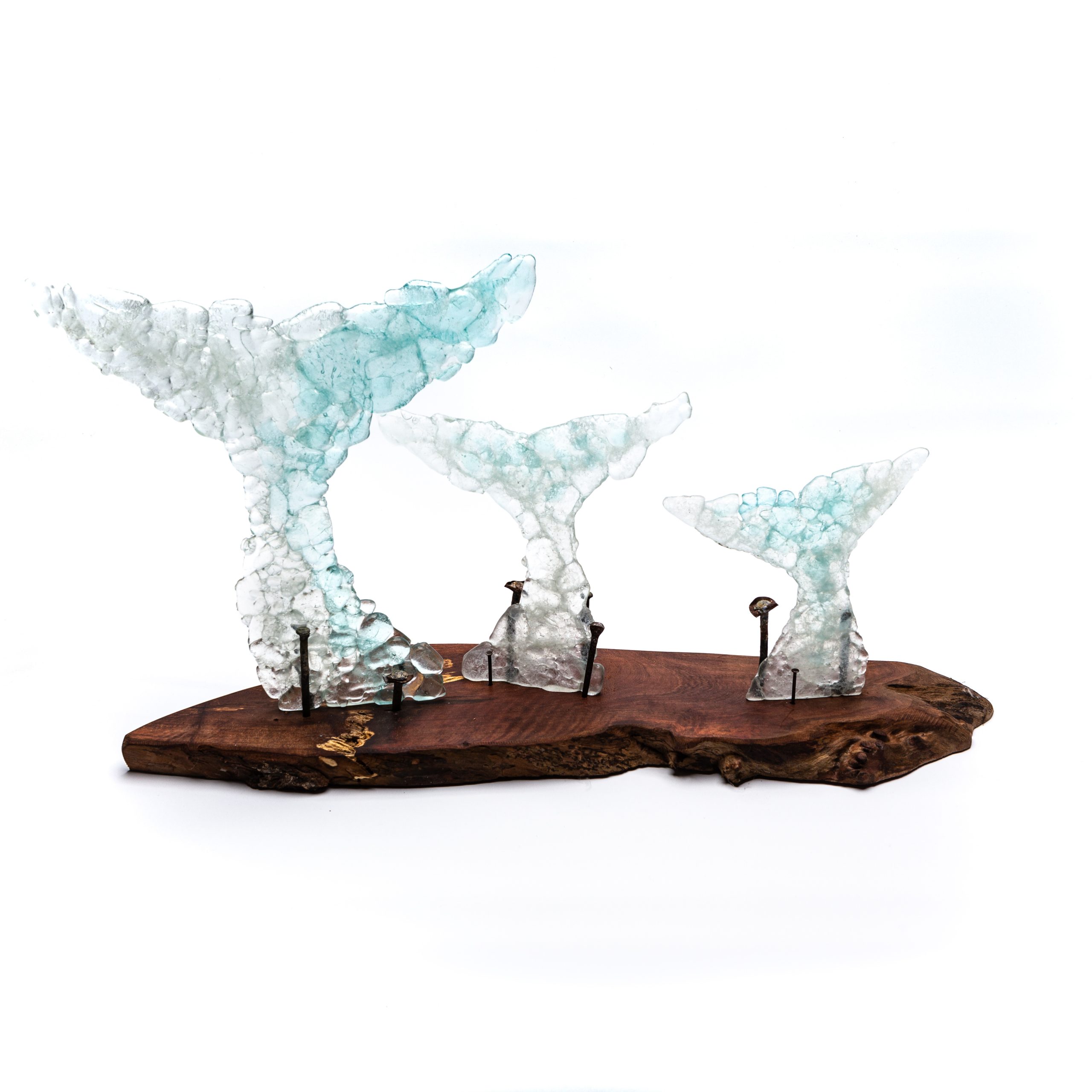 Whale Tail
Three whale tail elements positioned on a piece of Australian bush timber.
A$900 – $1,200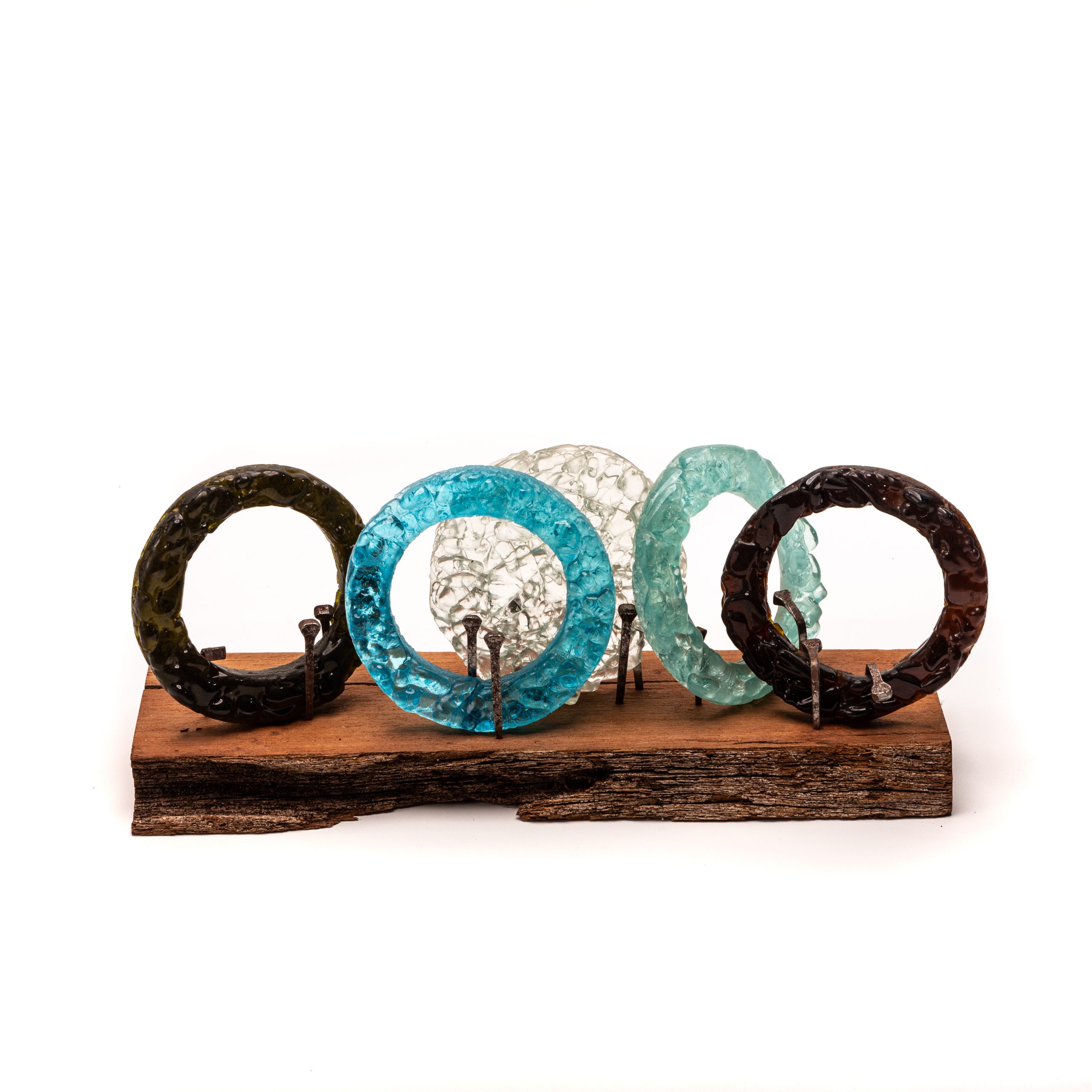 Ring and Wood Sculpture
Rings crafted from recycled bottles and set into a timber base.
Price varies.
Our statement bowls offer functionality, whilst putting a creative spin on an everyday household objects. Made from recycled glass, in the hands of skilled 'Makers', discarded waste is transformed into ornamental and unique bodies or art. Sustainability finds a true purpose in your home through each unique bowl.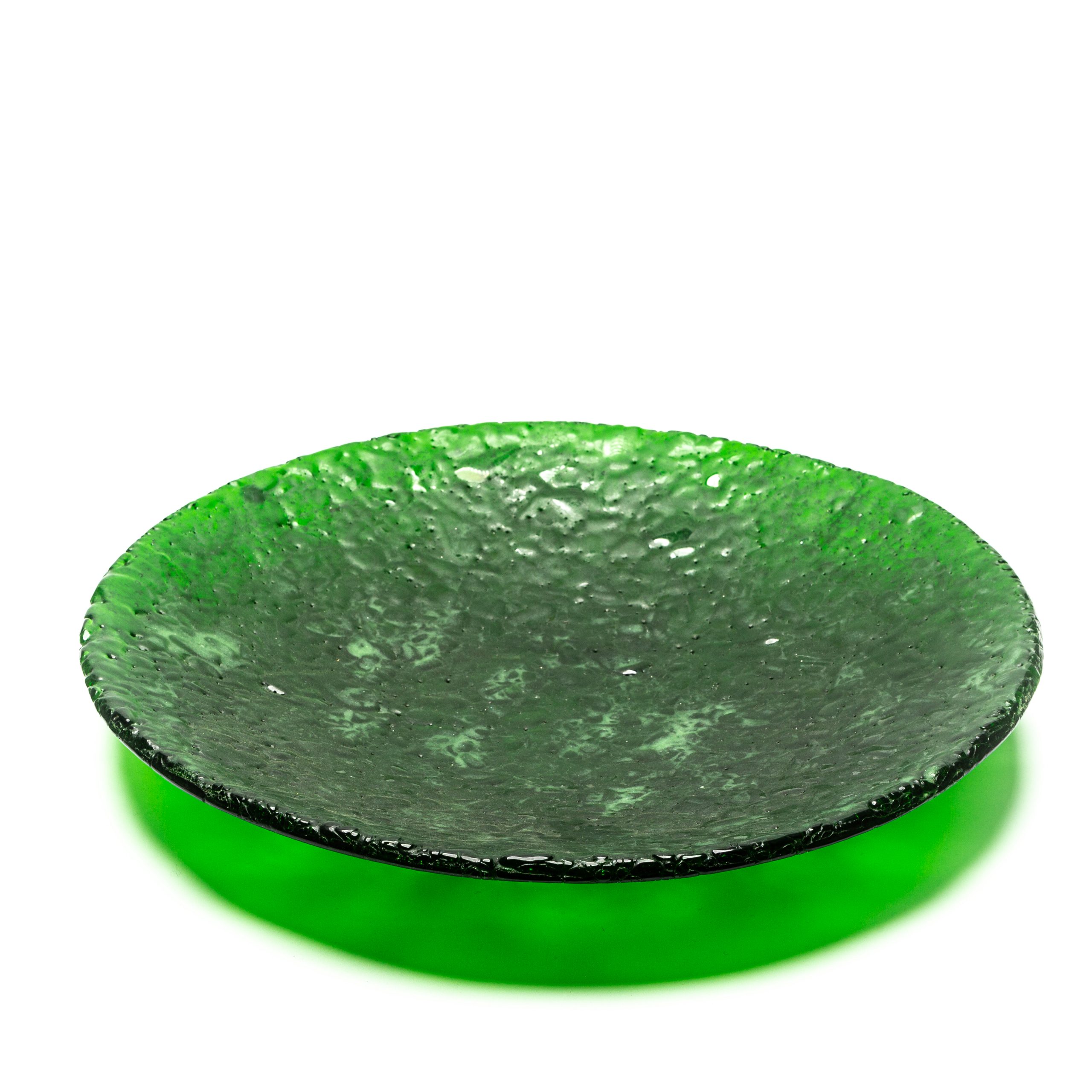 Bowl Platter
Entire bottle is altered through a firing process, altering its shape.
A$700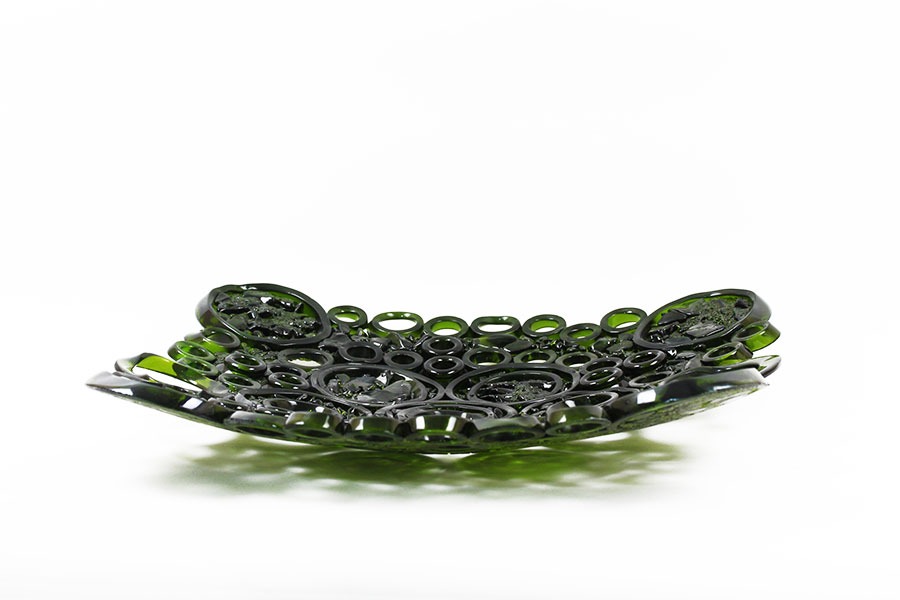 Bowl (Rectangle)
Make from crushed bottles, fused in a mould then polished and refired to take on a new form.
A$395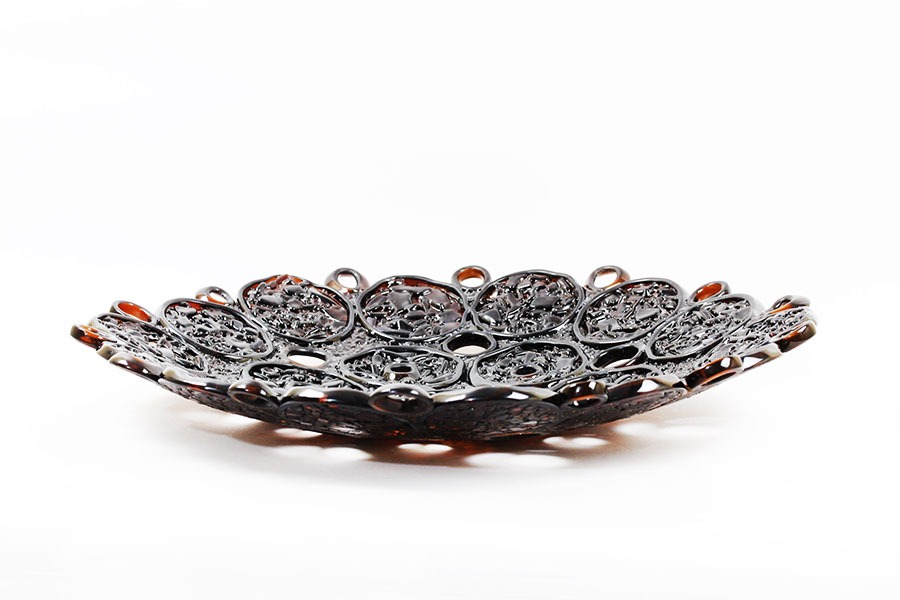 Bowl (Round)
Made from crushed bottles, fused in a mould then polished and refired to take on a new form.
A$ 600
Celebrate the aesthetic beauty of our West Australian landscape. Each hanging art piece is handcrafted to reflect our connection to sand, sea or sky. Cindy carefully replicates the natural aesthetics of local environments, reflecting the beauty of Esperance's pristine coastline, it's diverse flora and fauna, raw assets and auburn sun soaked plains of the Goldfields region. Bring a piece of this stunning part of the world into your home with one of our hanging art pieces.
Alluring sculptural forms that reflect the true beauty and colour range of recycled glass. Form truly meets function within our lighting range. As we apply more design elements, secondary materials and processing stages, the original glass bottles lose any resemblence to their original forms. They are expertly transformed into stunning pieces of art which will light up any room.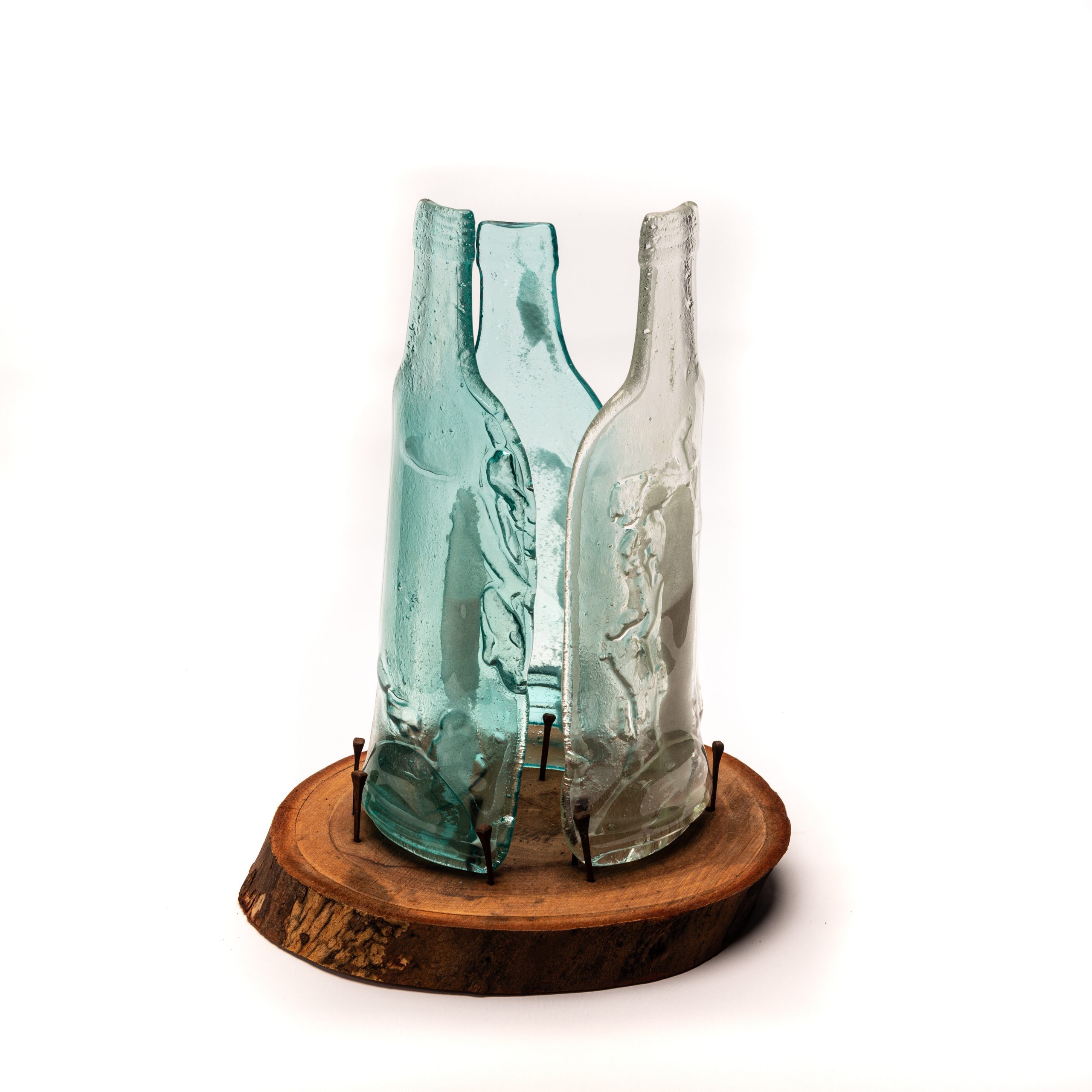 LAmp (Bottle)
Lamp crafted from flattened bottles and timber.
A$440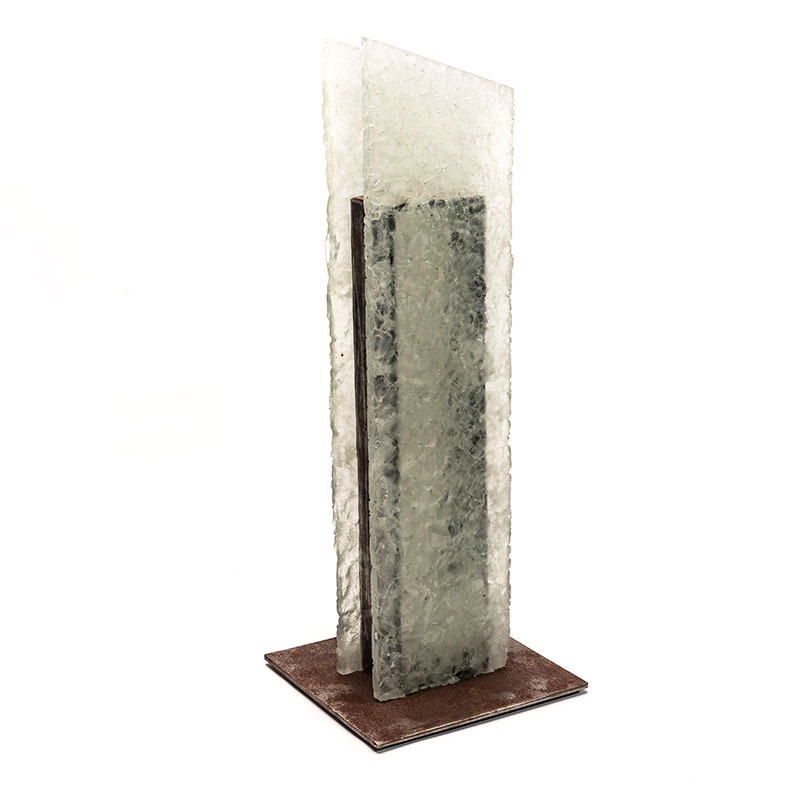 Crushed Lamp (Sand)
Lamp crafted from crushed bottles and a timber frame.
A$1,200
Crushed lamp (Shallow water)
Lamp crafted from crushed bottles and a timber frame.
A$1,200
Our three signature ranges showcase our diverse artistic style and skill. Within each range are collections of home decor objects – tableware, bathroom, sculptures, statement bowls, hanging art and lighting.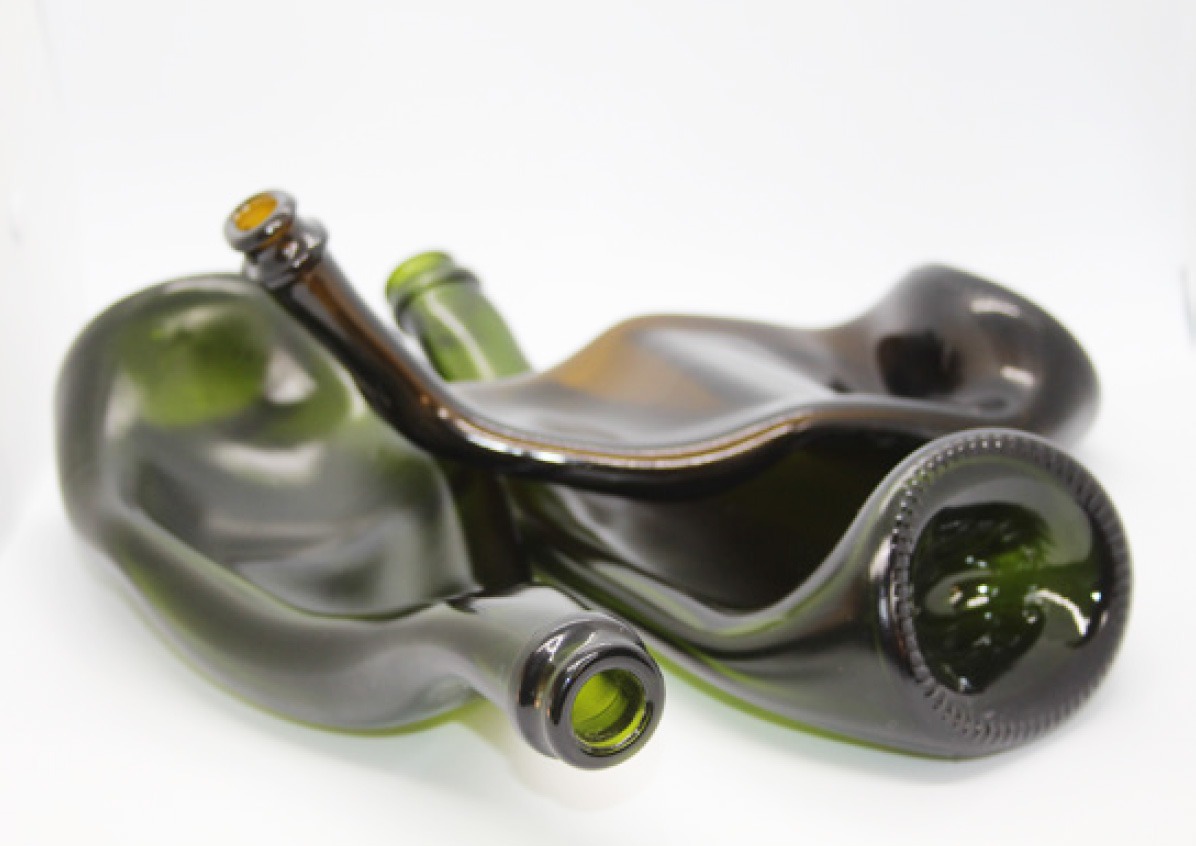 The Altered Range
The original form of each bottle is still visible within the objects of this range.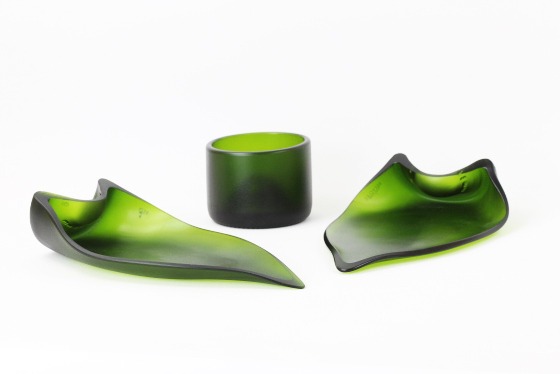 The contoured range
The organic lines of each object's edge represent our contoured natural landscapes.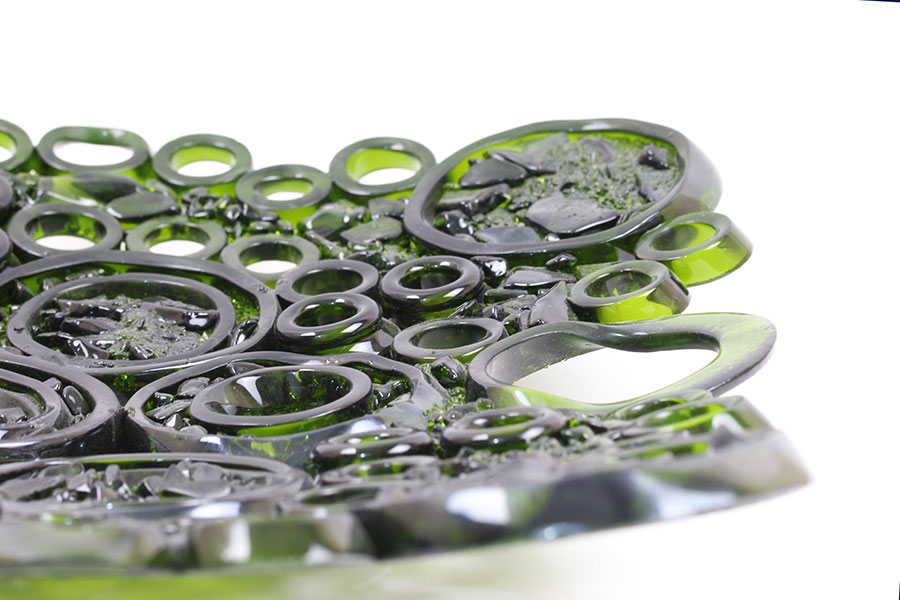 the statement range
Altered techniques and conceptual elements combine to create strong connection to time and place.
Immerse yourself in the beauty and diversity of our home decor products, each uniquely and expertly handcrafted in Esperance, Western Australia. Contact us to arrange a physical or virtual gallery visit.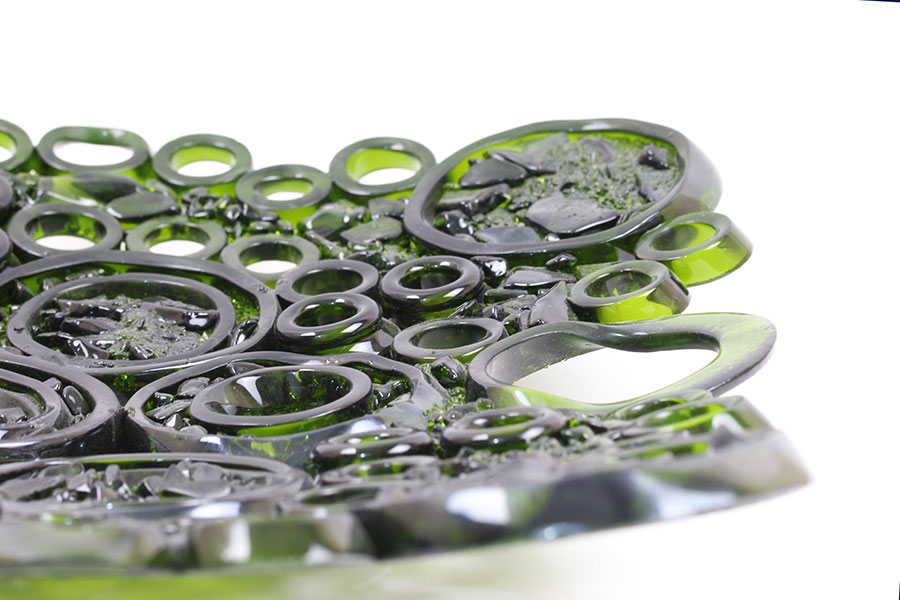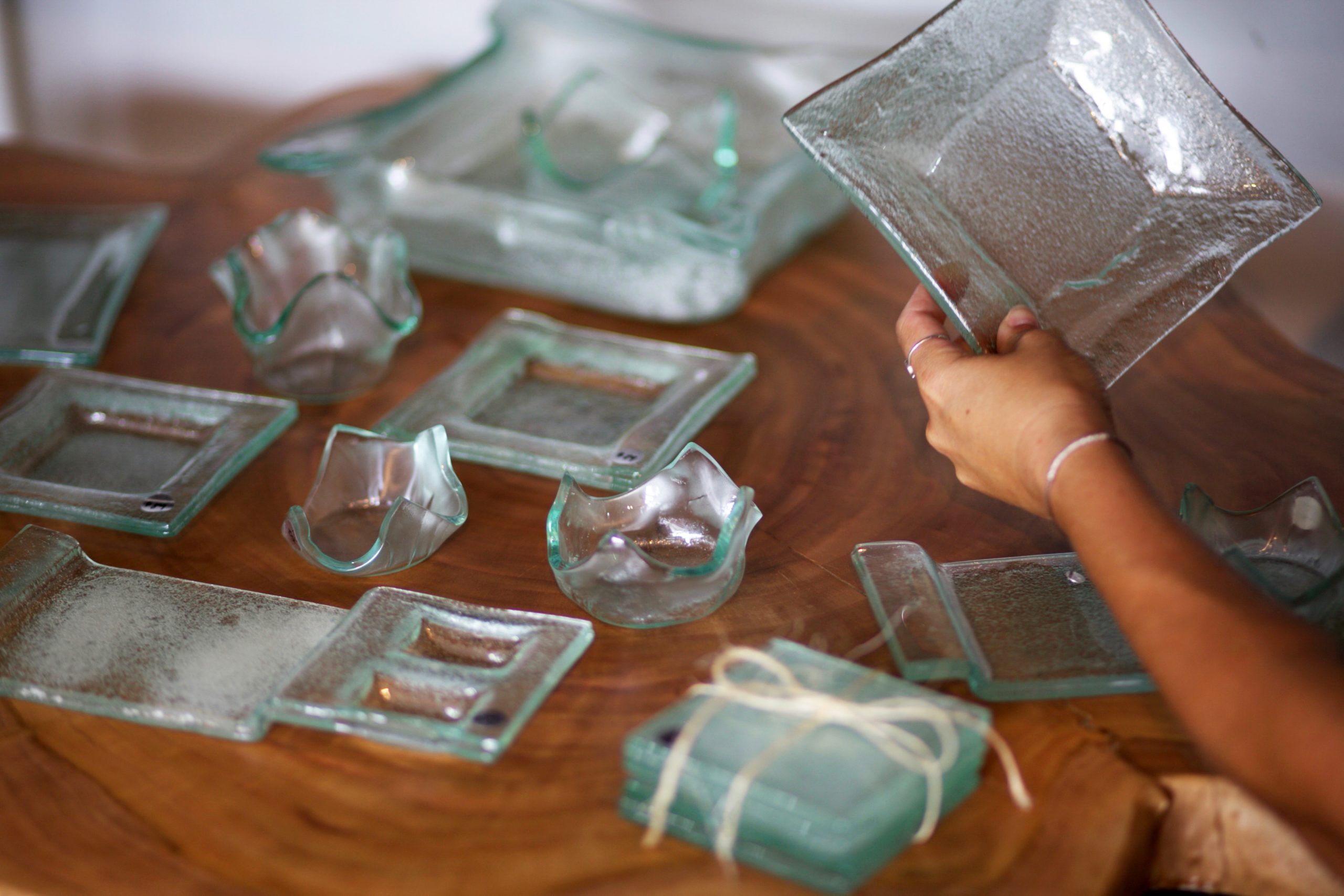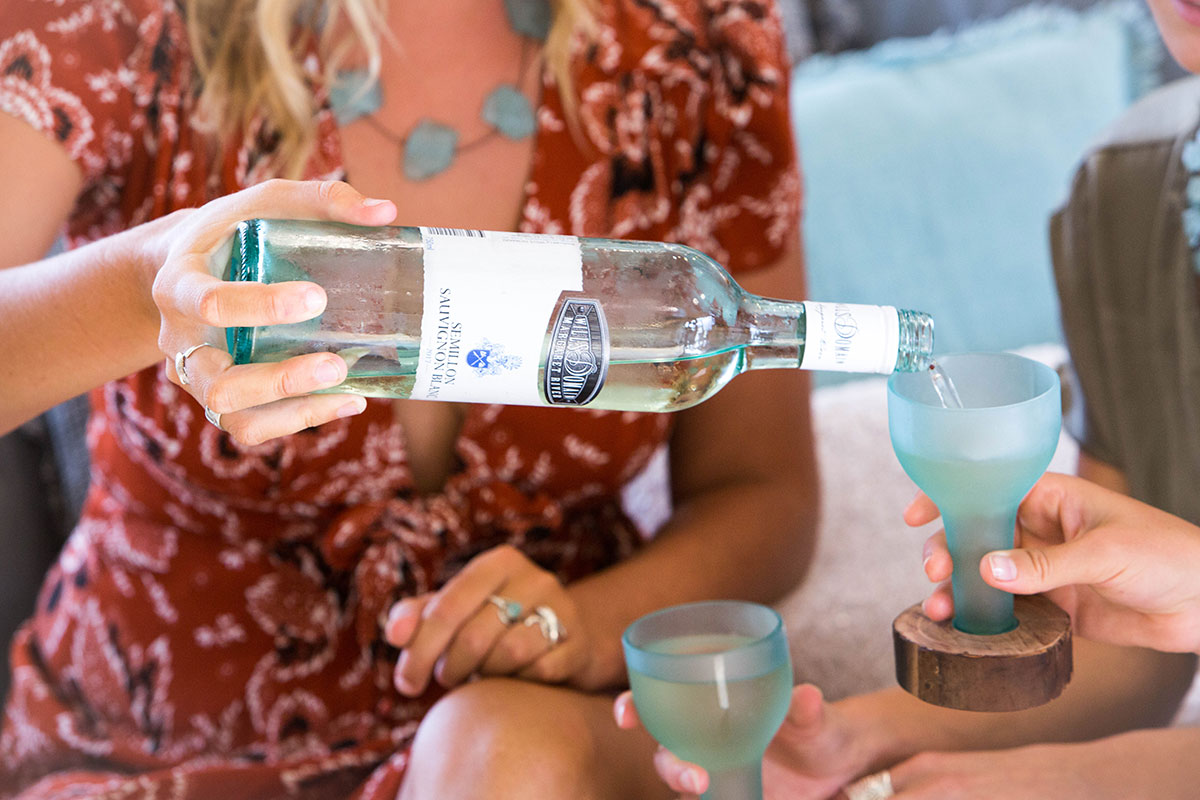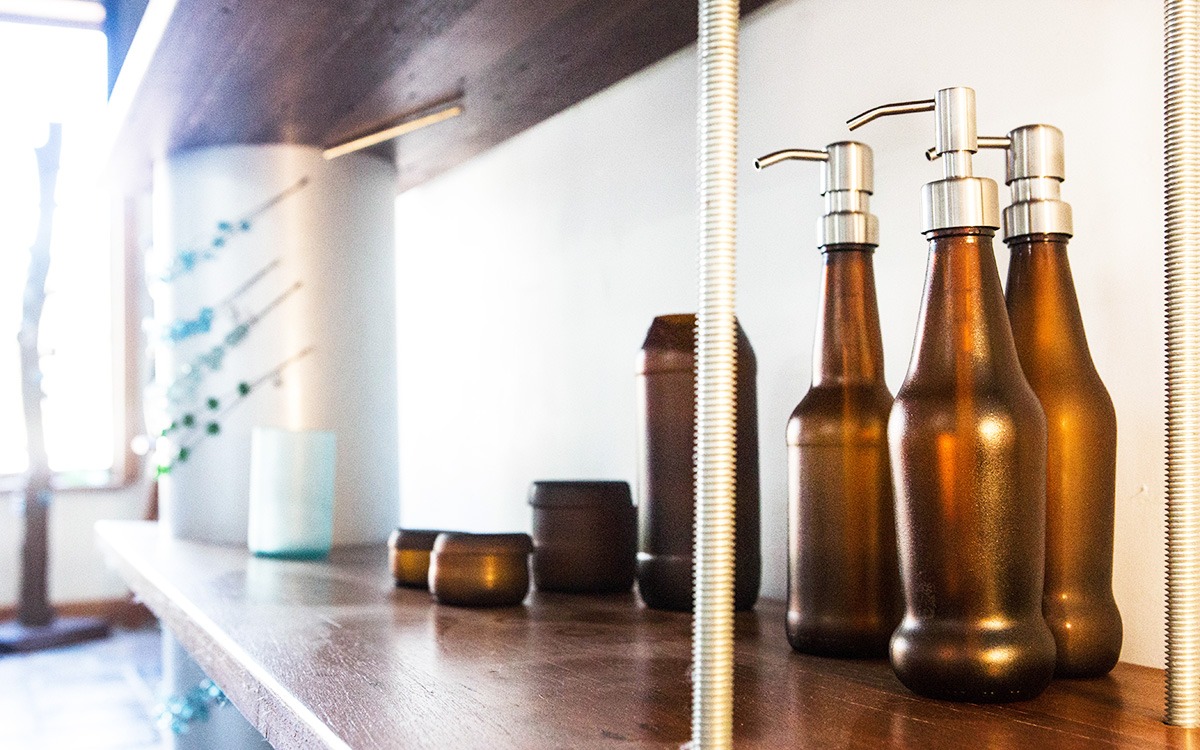 CONTACT US ABOUT OUR HOME DECOR RANGE
A full catalogue of our home decor range will be available on our website shortly. In the meantime, if you would like to find out more about our products, place an order or embark on a virtual tour, please complete the form below.